Wan Mohd Fazdli, Wan Daud (2011) Educational Game Prototype: History of Japanese Occupation in Malaysia. Masters thesis, Universiti Utara Malaysia.
PDF




Wan_Mohd_Fazdli_Wan_Daud.pdf


Restricted to Registered users only
Download (1MB)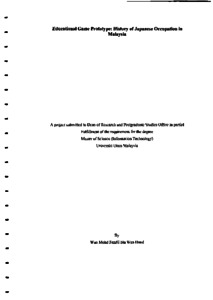 Preview
PDF




1.Wan_Mohd_Fazdli_Wan_Daud.pdf


Download (165kB) | Preview
Abstract
Computer games among teenagers have now become a culture that cannot be separated. Through the use of broadband and civilizing of IT usage among the Malaysian community, students and young people has now been exposed to computer games since a young age. Before this, computer game is perceived as only a medium for students and teenagers to seek pleasure without giving any benefit to them. But lately, various attempts have been arranged to enable a computer game to be incorporated into the class learning to make learning more interesting and accessible to students. For that regard, this project is proposed and to develop a computer games prototype that meets these requirements. A prototype in the form of educational games will be developed to integrate fun and learning, and it is for the history subject for form 3. To achieve these goals, the need for educational games and the theories how to integrate games into learning will be identified. Later on the prototype will be tested using the black box testing to ensure the functionality. Overall for the development, MUDPY model by Sharda will be employed as the main methodology for this project. At the end, these students will not only have computer games that provide pleasure alone, but they can also learn the history of Malaysia at the same time.
Actions (login required)