Chek Maznah, Mansor (2001) Gaya Komunikasi Pengurus Dan Hubungannya Dengan Kepuasan Komunikasi Pekerja. Masters thesis, Universiti Utara Malaysia.
PDF




Chek_Maznah_binti_Mansor,_2000.pdf


Restricted to Registered users only
Download (4MB) | Request a copy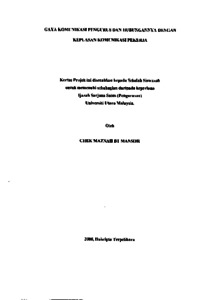 Preview
PDF




1.Chek_Maznah_binti_Mansor,_2000.pdf


Download (700kB) | Preview
Abstract
Communication is a dynamic process and it happens in all organizations. As a manager in an organization, the skill of communication is crucial because the ability to communicate is a managerial necessity. Good managers are
good communicators. poor managers are most often poor communicators. Therefore this quote summarizes the assumed importance of the relationship between communication and management. On this note too, managers' communication style will affect the workers' communication satisfaction.
Therefore the objective of this survey is to identify the correlation between the managers'communication style towards the workers' communication satisfaction. Using stratified random sampling, a set of questionnaire
consisting of 38 items has been distributed to 136 respondents from a population of 210 workers at the Kedah State Education Department. Seven dimensions of managerial communication has been chosen for this survey and seven hypothesis has also been constructed to be tested in this study. Using Pearson Correlation r and the Mean Test, findings revealed that all the seven null hypothesis were rejected because there is a significant corellation
between the managers' communication style towards the workers' communication satisfaction. It is hoped that this findings will give some insight to the administrators, programme planners and trainers as to how effective managerial communication is, especially to the administrators at Kedah State Education Department in handling and interacting with their workers towards a better rapport between administrators and workers.
Actions (login required)