Mohd Sani, Harun (2010) Penguatkuasaan Bayaran Zakat Pendapatan Menerusi Potongan Gaji Kakitangan Swasta: Kajian di Kalangan Majikan Swasta di Negeri Kedah. Masters thesis, Universiti Utara Malaysia.
PDF




Mohd_Sani_Harun.pdf


Restricted to Registered users only
Download (740kB)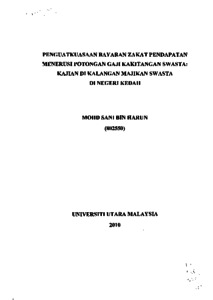 Preview
PDF




1.Mohd_Sani_Harun.pdf


Download (195kB) | Preview
Abstract
Jabatan Zakat Negeri Kedah had implemented PAW to the government servants who are served in Kedah require to pay zakah via salary deduction. It had given positive
implication towards an increase the collection on 'zakat pendapatan' in Kedah. The achievement had been realized by many parties that the zakah collection need effective
mechanisms in order to ensure the said agendas to be main for seek of Ummah. The study is trying to investigate the acceptable level among private employers on the PAW in case
JZNK would like to enforce to them via salary deduction by paying their zakah. Main objective of the study is to identify the attitude among private employer on the
enforcement paying zakah via salary deduction. The seconds' objective is to identify the relationship on the perception among employer to enforce 'zakat pendapatan' towards an intention to implement PAW. The study is important to ensure the dakwah and zakah collection will be increased from time to time. The questionnaire used for the data
collection. The analysis on reliability, validity and regresion used on the data gain from respondent through simple sampling. The findings of the study shown the attitude is positively significant to the paying zakah via salary deduction. However, the zakah laws and enforcement are not significant.
Actions (login required)