Mohd Adib, Abd Muin (2011) The Effect of Islamic Work Ethics on Work Outcomes: A Case Study on Higher Education in State of Kedah. Masters thesis, Universiti Utara Malaysia.
PDF




Mohd_Adib_Abd_Muin.pdf


Restricted to Registered users only
Download (2MB)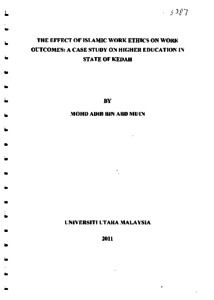 Preview
PDF




1.Mohd_Adib_Abd_Muin.pdf


Download (259kB) | Preview
Abstract
This study was conducted to investigate the effect of Islamic work ethic on work outcomes (job satisfaction, organizational commitment and turnover intention) on Higher Education in state of Kedah (UUM, KUIN and UITM Merbok). Professional organizations work very hard to establish codes of ethics to help both staff administration and academic to understand and manage their ethical responsibilities. Islam considers ethics as an essential factor to build individuals, communities and society. Islamic work ethics are set of moral principles and guidance that recognizes what is right behavior from doing wrong. It is universal, comprehensive, stable, fair, and historically prove success in building ethically great society. The study used a sample of 200 respondents from three institutions of Higher Education in Kedah (UUM, UITM & KUIN). The empirical testing indicates that Islamic work ethic has positive effects on both job satisfaction and organizational commitment; whereas there is has negative relationship between Islamic work ethic and turnover intention. Implication, limitation and suggestion for future research are discussed.
Actions (login required)