Ahmad Suki, Che Mohamed Arif (2011) Slight-Delay Shaped Variable Bit Rate (SD-SVBR) Technique for Video Transmission. PhD. thesis, Universiti Utara Malaysia.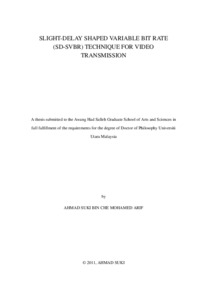 Preview
Text




Ahmad_Suki_Che_Mohamed_Arif.pdf


Download (4MB) | Preview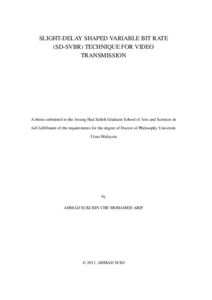 Preview
Text




1.Ahmad_Suki_Che_Mohamed_Arif.pdf


Download (199kB) | Preview
Abstract
The aim of this thesis is to present a new shaped Variable Bit Rate (VBR) for video transmission, which plays a crucial role in delivering video traffic over the Internet. This is due to the surge of video media applications over the Internet and the video typically has the characteristic of a highly bursty traffic, which leads to the Internet bandwidth fluctuation. This new shaped algorithm, referred to as Slight Delay - Shaped Variable Bit Rate (SD-SVBR), is aimed at controlling the video rate for video application transmission. It is designed based on the Shaped VBR (SVBR) algorithm and was implemented in the Network Simulator 2 (ns-2). SVBR algorithm is devised for real-time video applications and it has several limitations and weaknesses due to its embedded estimation or prediction processes. SVBR faces several problems, such as the occurrence of unwanted sharp decrease in data rate, buffer overflow, the existence of a low data rate, and the generation of a cyclical negative fluctuation. The new algorithm is capable of producing a high data rate and at the same time a better quantization parameter (QP) stability video sequence. In
addition, the data rate is shaped efficiently to prevent unwanted sharp increment or decrement, and to avoid buffer overflow. To achieve the aim, SD-SVBR has three strategies, which are processing the next Group of Picture (GoP) video sequence and obtaining the QP-to-data rate list, dimensioning the data rate to a higher utilization of the leaky-bucket, and implementing a QP smoothing method by carefully measuring the effects of following the previous QP value. However, this algorithm has to be combined with a network feedback algorithm to produce a better overall video rate control. A combination of several video clips, which consisted of a varied video rate, has been used for the purpose of evaluating SD-SVBR performance. The results showed that SD-SVBR gains an impressive overall Peak Signal-to-Noise Ratio (PSNR) value. In addition, in almost all cases, it gains a high video rate but without buffer overflow, utilizes the buffer well, and interestingly, it is still able to obtain smoother QP fluctuation.
Actions (login required)