Hashim, Asman (2001) Permodelan Rangkaian Neural Buatan Untuk Penilaian Kendiri Teknologi Maklumat Guru Pelatih. Masters thesis, Universiti Utara Malaysia.
PDF




Hashim_bin_Asman,_2001.pdf


Restricted to Registered users only
Download (4MB) | Request a copy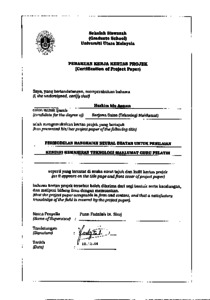 Preview
PDF




1.Hashim_bin_Asman,_2001.pdf


Download (499kB) | Preview
Abstract
Artificial Neural Network is one of the branches of Artificial Intelligence which is utilized for the purpose of classification and prediction based on data in hand. The
purpose of the study is to develop a web-based self assessment information system that can be used to obtain a model for prediction of information technology competency among teacher trainees in teaching institutes. The developed system is known as "NeuroCite". The system functions as a research instrument generating questionnaires as well as performing rubric assessment in information technology competency online. The data entered online using web as a medium and then executing back propagation simulation to obtain the desired neural network model, and to predict information technology competency based on the model obtained. The data was collected from various field of studies among teacher trainees in teacher training institutes. Data containing eleven predictive variables was used to train and test neural network model. The research procedures chosen were the multi-layered perceptron with back propagation algorithmic learning. The research findings show that the most suitable predictive model comprises of eleven nodes in input-layer; five nodes in hidden-layer and one node in output-layer. The performance of the selected model was reassessed and was found to be 96.77% accuracy in its
prediction. The research confirmed that artificial intelligence is capable in generating instruments for measurement and educational evaluation. The developed system can be used as a tool to assist decision making in education.
Actions (login required)