Damotharan, Loga Vijaindran (2012) Tracer Study on AIMST University Students Using Data Mining. Masters thesis, Universiti Utara Malaysia.
Text




Loga_Vijaindran_Damotharan.pdf


Restricted to Registered users only
Download (2MB)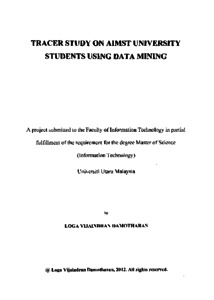 Preview
Text




Loga_Vijaindran_Damotharan.pdf


Download (495kB) | Preview
Abstract
Tracer study is an approach which widely being used in most of the organization especially in the education institutions to track and to keep record of their students once they have graduated from the institution. Through tracer study, an institution able to evaluate the quality of education given to their graduates by knowing the graduates placements and positions in the society which later can be used as a benchmark in producing more qualified and competitive graduates. This tracer study basically focuses at one of the leading private university in the northern region of Peninsular Malaysia which known as AIMST University. This tracer study uses SPSS software as one the primary method to produce a relevant model of all the students' enrolment as well as graduating students' based on the data supplied by the Students and Records Division of AIMST University. However, the data supplied by the Student Admission and Records of AIMST University do contains missing values hence the data sets have to undergo cleaning process. As such CRISP methodology being applied to the datasets to ensure the data transformed into quality and usable data sets, with that the data will undergo pre processing approach. These data sets will be used in Data Mining approach in the modeling techniques to analyze the data and to identify the patterns.
Actions (login required)