Nor Hanim, Awang @ Mohd Noor (2012) Diskriminasi ke Atas Wanita di Tempat Kerja: Kajian Terhadap Pegawai Kerajaan Negeri di Daerah Kota Bharu, Kelantan. Masters thesis, Universiti Utara Malaysia.
Text




Nor_Hanim_Awang_@_Mohd_Noor.pdf


Restricted to Registered users only
Download (6MB)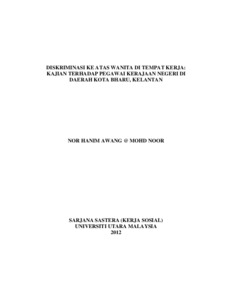 Preview
Text




Nor_Hanim_Awang_%40_Mohd_Noor.pdf


Download (452kB) | Preview
Abstract
The issue of women as victims of discrimination at the workplace is still a persistent issue in Malaysia. The aim of this research is to identify the factors associated with the inclination of discrimination against female employees at the workplace. The research employed the quantitative design. A total of 262 state government officials in the district of Kota Bharu, Kelantan from different job categories were selected as respondents using simple random sampling technique. The research used a structured questionnaire containing 85 questions as the instrument to collect data. The data collected were analyzed by using multiple regression technique supported by Statistical Package for Social Science (SPSS). Nine hypotheses related to age, duration of marriage, number of children, situational factor, socialization factor, attitude, period of education, period of employment and income have been analyzed. The result indicates that most of the state officials show a moderate level of inclination towards discrimination. The research also indicates that there is a
significant relationship between situational factor, socialization, attitude and income, with discrimination inclination. Thus the research shows that situational factor, socialization, attitude, and income are considered as important factors associated with the inclination towards discrimination against female employees.
Actions (login required)