Sukri, Bakar (2011) Faktor-Faktor yang Mempengaruhi Kesedaran Membanteras Jenayah Rasuah di Kalangan Pegawai Tentera Darat. Masters thesis, Universiti Utara Malaysia.
PDF




Sukri_Bakar.pdf


Restricted to Registered users only
Download (2MB)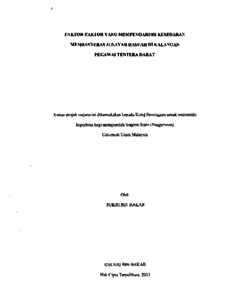 Preview
PDF




1.Sukri_Bakar.pdf


Download (383kB) | Preview
Abstract
This study aims to attain understanding on the awareness level of Malaysian Army's officers toward corruption practice. The independent variables in this study are anti
corruption campaign, law enforcement, officer's knowledge, officer's attitude, religious value and moral, and personal and social influence, while awareness level in combating corruption is the dependent variable. The data for this study was obtained from the respondents among the officers serve in the Malaysian Army, with the rank of Second Lieutenant, Lieutenant, Captain and Major. A total of 243
respondents involved in this study. The questionnaires used were developed from previous studies by using Likert Scale 5 point method which indicates "strongly disagree" for score 1 until "strongly agree" for score 5. The results showed that majority of respondents acquire a high level of awareness to combat the corruption practice. Subsequently, to test the strength of relationship between variables, the
multiple regression method was used by combining all independent variables towards dependent variable. The research results based on respondent's information proved that independent variables in the form of combination have significant influence towards dependent variable. However, based on comparison between independent variables, officer's attitude and religious value and moral were recorded to have the highest value of significant level. Finally, researcher has come out with suggestions that officer's attitude and religious value and moral should be given serious attention in creating a more high level of awareness among the Malaysian Army's officers to combat corruption.
Actions (login required)