Sharifah Nazira, Syed Idros (2012) Kajian Terhadap Faktor-Faktor Penyumbang kepada Kejayaan dan Penglibatan Usahawan Wanita di Kawasan Lembah Klang. Masters thesis, Universiti Utara Malaysia.
Text




SHARIFAH_NAZIRA_SYED_IDROS.pdf


Restricted to Registered users only
Download (1MB) | Request a copy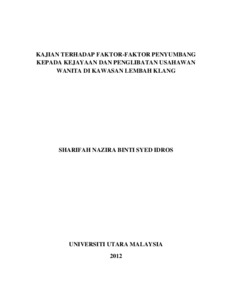 Preview
Text




SHARIFAH_NAZIRA_SYED_IDROS.pdf


Download (538kB) | Preview
Abstract
This study aims to identify the factors that contribute to the success of women entrepreneurs in the Klang Valley as well as identifying that leads to the factors of involvement in the business. In addition,this study also looks into the problems faced by women entrepreneurs while operating their business.Questionnaires was used as a method of data collection and distributed to 95 women entrepreneurs who are involved in entrepreneurial activities in the Klang Valley,Selangor. The data were analyzed using the program Statistical Packages For Social Science (SPSS) 10.0 for frequencies, percentages and means. In general,the findings showed that the main factors that motivate women entrepreneurs to be involved in business is due to the opportunities in addition looking for job satisfaction and also self-reliant. The findings also revealed that the treatment of customers is the most important factor that
contributes to the success of a woman entrepreneur. The highest problem faced by the women entrepreneurs in this area is the high competition due to the strategic location in the Klang Valley.
Actions (login required)