Zinneerah, Ahmad Zamil (2012) Assessing the Influence of Work Safety Scale on Safety Behaviour Among Pathology Laboratory Employees. Masters thesis, Universiti Utara Malaysia.
Text




ZINNEERAH_AHMAD_ZAMIL.pdf


Restricted to Registered users only
Download (1MB) | Request a copy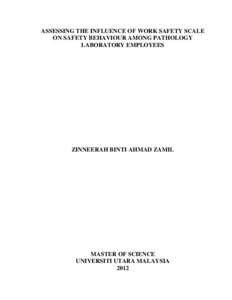 Preview
Text




ZINNEERAH_AHMAD_ZAMIL.pdf


Download (437kB) | Preview
Abstract
This study was conducted to investigate the influence of the five facets of Work Safety Scale (WSS) on compliance with safety behaviour among Pathology laboratory employees of Hospital Tuanku Jaafar, Seremban, Negeri Sembilan. The survey was done among 101 respondents in the mentioned government hospital by using a questionnaire developed by Hayes et al. (1998) which measures the workers' perceptions on job safety, coworker safety, supervisor safety, management safety, and satisfaction with safety program towards compliance with safety behaviour. All the results of measurement were then analyzed statistically with descriptive analysis of respondents' background, reliability tests on variables' internal consistencies, correlation, and regression analysis. The findings indicated that the most significant facets were the satisfaction with safety program and the supervisor safety, in predicting the relation to comply with safety behaviour. The job safety was negatively related to the compliance with safety behaviour, while the coworker safety and the management safety were non-significant to the compliance with safety behaviour in this research setting type and background. It is hoped that the findings would be able to help the organization work on the level of compliance with safety behaviour since medical industry is a service based industry which is of utmost importance to the country and have been vastly progressing and would continue to do so in the nearest decades.
Actions (login required)