Muhammad Aliyan , Perkasa (2012) The Influence of Participative Decision Making and Demographic Characteristics Towards Job Performance Among Academic Staffs in Universiti Utara Malaysia. Masters thesis, Universiti Utara Malaysia.
Text




MUHAMMAD_ALIYAN_PERKASA.pdf


Restricted to Registered users only
Download (1MB)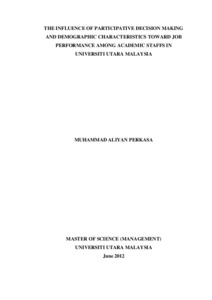 Preview
Text




MUHAMMAD_ALIYAN_PERKASA.pdf


Download (433kB) | Preview
Abstract
Globalizations and rapid advancement of information and technology have created high uncertainty in educational environment. In response to these changes, higher education institutions continuously set higher goals and objectives to gain more competitive advantages. As a result, academic staffs as important contributors in the university face an increasing demand for higher job performance. Therefore, it is necessary for university management to implement a practice that can increase academic job performance and keep them motivated. Furthermore, university management should be able to recognize the diversity in their work environment. The purpose of this research is to examine the influence of participative decision making and demographic characteristics toward job performance of academic staffs. In this regard, 100 academic staffs in Universiti Utara Malaysia were treated as sample of the research. Furthermore, by using Analysis of Variance (ANOVA) and regression analysis as statistical tools, the research found that participative decision making, along with teaching experience and academic rank of academic staffs are significant predictors in influencing job performance of academic staffs.
Actions (login required)