Md Zawawi, Abu Bakar (2012) Permasalahan Hak Pasangan Dalam Undang-Undang Keluarga Islam di Malaysia. PhD. thesis, Universiti Utara Malaysia.
Text




MD_ZAWAWI_ABU_BAKAR.pdf


Restricted to Registered users only
Download (2MB)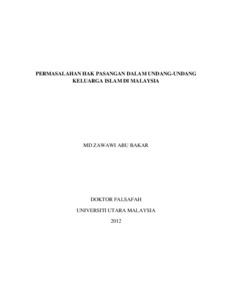 Preview
Text




MD_ZAWAWI_ABU_BAKAR(1).pdf


Download (499kB) | Preview
Abstract
This research has been done to study the problems in the Islamic Family Law (IFL) regarding the rights of Muslim married couples in Malaysia. The issues of injustice and discrimination, are the two most common issues in the IFL and they will be explained in this study. In order to achieve the objectives of the study, a qualitative research was conducted to identify the actual problems regarding the rights of husband and wife in the IFL. The researcher has opted archival study to analysis the books of fiqh munakahat, previous researches and the IFLs of the Malaysian states to discover the problems of rights of husband and wife in the IFL. Based on this research, four rights were selected and analyzed further; fasakh, polygamy, jointly acquired properties and hadhanah. Moreover, data was also obtained from interviews conducted with six subjects from different institutions. Triangulation method was adopted in the subject selection for the purpose of data validation. Data obtained was finally analyzed using Qualitative Data Analysis (QDA). The results showed that the rights of married couples can be classified into three; the rights of a husband (32%), the rights of a wife (63%) and the jointly rights of spouses (5%). From the interviews, three dimensions regarding the problems of rights in the IFL have been identified; the substantive issues, procedural issues and external issues. The research concluded that the IFL is just and fair to both husband and wife. The only drawbacks that exist revolving around issues of human emotion, ignorance of court procedures and feminism influence. The practice of gender harmony already being integrated into the syariah jurisprudence which is believed to solve the issues of discrimination on the rights of Muslim married couple under the IFL in Malaysia.
Item Type:
Thesis (PhD.)
Supervisor :

Wan Abdullah, Wan Ab Rahman Khudzri

Item ID:
3271
Uncontrolled Keywords:
Islamic Family Law, Rights, Marriage, Husband, Wife, Discrimination
Subjects:
K Law > KJ-KKZ Asia and Eurasia, Africa, Pacific Area, and Antarctica > KPG1-6999 Malaysia
B Philosophy. Psychology. Religion > BP Islam. Bahaism. Theosophy, etc
Divisions:
Awang Had Salleh Graduate School of Arts & Sciences
Date Deposited:
06 May 2013 08:50
Last Modified:
13 Nov 2019 00:57
Department:
Awang Had Salleh Graduate School of Arts & Sciences
Name:

Wan Abdullah, Wan Ab Rahman Khudzri

URI:
https://etd.uum.edu.my/id/eprint/3271
Actions (login required)