Kamarudin, Ahmad (2012) Metode Istinbat Hukum dan Penulisan Fatwa: Satu Kajian di Negeri Kedah. PhD. thesis, Universiti Utara Malaysia.
Text




KAMARUDIN_AHMAD.pdf


Restricted to Registered users only
Download (3MB)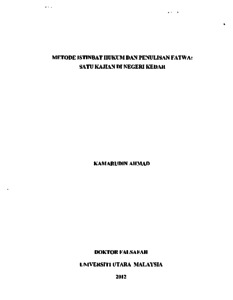 Preview
Text




KAMARUDIN_AHMAD.pdf


Download (1MB) | Preview
Abstract
The study aims to identify the fatwa writing convention as practised in the state of Kedah. Written fatwa is a form of medium adopted in communicating fatwa information to the general public. The public understanding of the fatwa depends largely on how the fatwa is written, in particular, the length of the fatwa, the statement of the fatwa as well as the presence or absence of the supporting dalil (evidence) and explanation. Written fatwa should include several aspects that are related to the istinbat such as the use of dalil. Three aspects are central in this qualitative research, namely, how the introduction and concluding sections were constructed, the utilization of dalil and how the fatwa was presented. The study analysed various fatwas that were written and issued based on the three aspects. Data were extracted from the compilation of fatwas issued by the relevant authorities. The research found that the construction of the introduction and conclusion sections was appropriate to the writing convention discussed. In terms of the use of dalil from al-Quran, Sunnah and others, it was found that not much emphasis was given in the answers given in written form. Similarly, the hikmah or wisdom that underlies a particular fatwa was also given less than the desired emphasis. In terms of the overall presentation, the fatwa was written briefly without much reflection on previous rulings. The findings also present several important and invaluable implications to the Muslim society. The relevant institutions should recognize the importance of fatwa writing convention and take appropriate actions so that the institution of fatwa and the fatwa issued could consequently contribute to the development of the Muslim ummah.
Actions (login required)