Md Noor, Saper (2012) Pembinaan Modul Bimbingan 'Tazkiyah An-Nafs' dan Kesannya ke Atas Religiositi dan Resiliensi Remaja. PhD. thesis, Universiti Utara Malaysia.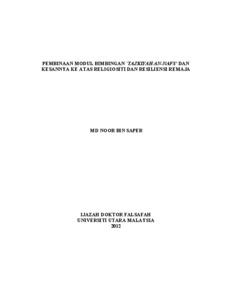 Preview
Text




MD_NOOR_SAPER.pdf


Download (2MB) | Preview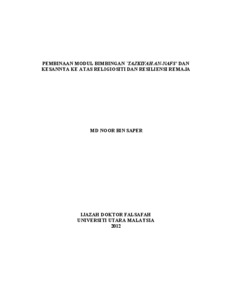 Preview
Text




MD_NOOR_SAPER.pdf


Download (262kB) | Preview
Abstract
The purpose of this study is to develop a guidance module based on Islamic perspective namely "Modul Bimbingan Tazkiyah al-Nafs" (MBTN) and to measure the impact of this module on adolescent's religiosity and resilience. The study involved two phases: the module development and the measurement of adolescent's religiosity and resilience. In the first phase, data on the module development were collected from interviews with experts and library researches. This was followed by conducting reliability and validity tests of this module. Results obtained showed that the overall reliability coefficient of this module was very high i.e. Cronbach Alpha 0.883, which indicates high degree of agreement among the expert rates that this module can be used as an intervention. In the second phase, a total of 62 adolescents were selected as respondents to follow this module. The Quasi-experimental methods were used to collect data. All respondents were divided into two groups: treatment and control groups. Two instruments had been used, namely Resilience Questionnaire Instrument and the Islamic Educational Appreciation Scale for Secondary Students. Besides that, interviews with respondents
were conducted to gain their feedback after going through this module. Results showed that the module had a significant positive impact on adolescents' religiosity and resiliency. Furthermore, the findings proved that the guidance and training module based on Islamic perspective could enhance resiliency. This study could help to expand further religion-related guidance and counseling knowledge, particularly those of Islamic based.
Actions (login required)