Al-Dmour, Ala Abdal-Gader Nemran (2012) Web Based Students' Attendance System (WSAS). Masters thesis, Universiti Utara Malaysia.
PDF




ALA_ABDAL-GADER_NEMRAN_AL-DMOUR.pdf


Restricted to Registered users only
Download (7MB)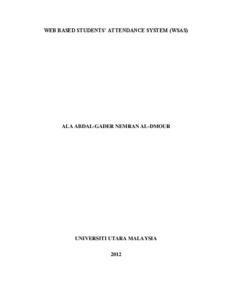 Preview
PDF




ALA_ABDAL-GADER_NEMRAN_AL-DMOUR.pdf


Download (777kB) | Preview
Abstract
A web based students' attendance system is an appropriate solution for teachers and parents to inform the parents about their students' attendance status in school via SMS and Email services as well as to enhance the communication between teachers and parents. Research Design Methodology was adopted in this project with its five stages, which includes: Awareness of problem, Suggestion (integrated with System Development Methodology), Development (integrated with Object Oriented Development Life Cycle approach), Evaluation, and Conclusion. The prototype was developed to determine, analysis, test, and validate the user's requirements in order to rate the usability test of this system. Furthermore, the prototype was evaluated by using USE questionnaire and the usability results was presented and discussed as well.
Actions (login required)