Mohd Isa, Abdul Rahman (2012) Kaedah Penetapan Arah Kiblat dan Amalannya: Suatu Kajian Kefahaman Umat Islam di Negeri Kedah. Masters thesis, Universiti Utara Malaysia.
Text




MOHD_ISA_HAJI_ABDUL_RAHMAN.pdf


Restricted to Registered users only
Download (3MB)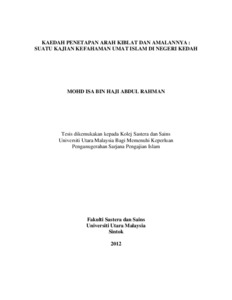 Preview
Text




MOHD_ISA_HAJI_ABDUL_RAHMAN.pdf


Download (470kB) | Preview
Abstract
This research aims to identify the understanding of Muslims community regarding the direction of Qiblah in the state of Kedah Darul Aman. The researcher has underlined three main objectives to focus on this research. The first objective is the Muslims community understanding of the rules and general knowledge about the direction of Qiblah in the state of Kedah. Secondly, this research is to examine their understanding on the methods used to determine the Qiblah. The last objective is to gauge their level of understanding about certain equipment and tools used to determine the Qiblah. In this research, the researcher intends to unveil the method and equipment which have been used up until now by the people of authority to decide on the direction of the Qiblah. Additionally, the introduction of several modern and traditional equipment together with basic guidelines on how to use them is illustrated in this research as well. The method and equipment used are devided into two; traditional and modern. Subsequently, there are also several Muslim scholars' who offered a rather similar opinion regarding the Qiblah. The similarity is on the methods especially with regard to the individual referred to determine the direction of Qiblah. In addition, there is a list of Qiblah's bearing for several locations in each district in Kedah. The chosen locations were based on the density of the populations and the main cities in each district. This research also explains about sunset "azimuth" throughout the year for reference. Other than that, the research also explains the combination of two methods which is the direction of sunset and "Hukum Tangan" as a practical alternative technique. Lastly, at the end of this research, a random analysis is made based on a few research objectives related questions. The findings from the analysis illustrated that Muslims community lacks in depth understanding about the Qiblah. Their understanding is only for performing "Solah" and as a "Fardhu Kifayah".
Actions (login required)