Mohd Hata, Saliman (2001) Amalan, Etika Kerja Dalam Perkhidmatan Awam Malaysia : Satu Kajian Ke Atas Kementerian Belia Dan Sukan Malaysia. Masters thesis, Universiti Utara Malaysia.
PDF




Mohd._Hata_bin_Sulaiman,_2001.pdf


Restricted to Registered users only
Download (6MB) | Request a copy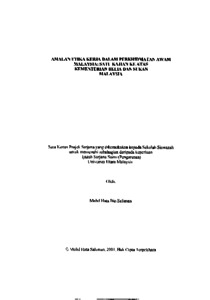 Preview
PDF




1.Mohd._Hata_bin_Sulaiman,_2001.pdf


Download (850kB) | Preview
Abstract
This research is aimed to reviewing the implementation of work ethics among staff of the Ministry of Youth and Sports Malaysia (KBSM). The research is divided into six chapters. The first chapter deals with introduction of research and basics of the existence of KBSM. Problems pertaining to non-adherence to code of ethics among staffs of KBSM. The research work reveals the degree of
adherence to the code of work ethics by their staffs. This research asserts the importance of such survey whose scope is limited to the selected staffs of KBSM and its related agencies. The common yardstick in evaluation is based upon 12 Cardinal Work Ethics (Etika Kerja Tonggak Dua Belas (EKTI2) The importance of the research is its applicability in improving organization performance, clarification of concepts in the research. The second chapter narrates about the value perspective and work ethics. It emphasizes values and work values, values in work environment, work ethics, behavioral aspect of work
ethics; work performance and its link with work ethics; and other research that are related to work ethics. Third chapter envisages value and ethics in the Government Civil Service and practices or implementation of work ethics in the civil service. Chapter four deals with research methodology, research format used to survey cross section. The theoretical frameworks that use independent variables
as demography, work knowledge and competence and dependent variables pertaining to practices of six values mentioned in EKT 12. This section also contains survey hypothesis based on Mahmood et. al (1997) and Iwati (2000).
Questionnaire used as survey tools on 120 samples out of 650 populations. Chapter five consists the results of survey, responds on hypothesis questions of both variables and invariables. Survey outcome is the analysis of data collected, were processed using SPSS software. Chapter six; discusses on suggestions and conclusions that can serve as guide and remedial action steps to address the
weakness that exist in KBSM organization. The research concludes that work ethics have significant impact or influence upon work performance altogether but not with demographic factor or work knowledge.
Actions (login required)