Iskandar, , (2012) Peranan Pusat Pemulihan Akhlak Lelaki Pokok Sena Negeri Kedah. Masters thesis, Universiti Utara Malaysia.
Text




s809249.pdf


Restricted to Registered users only
Download (1MB)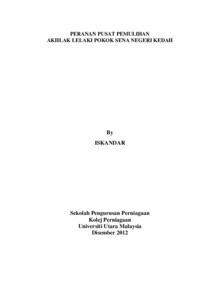 Preview
Text




s809249.pdf


Download (661kB) | Preview
Abstract
Children (teenagers) is the heir and successor leadership today National vision. As we know together that the rapid economic and technological development has an impact on social and human development of youth. Countries hope teens can grow and evolve with the physical and mental health, strong, powerful, educate and have the moral character to be proud to continue the ideals of the nation. This case study takes a case against a child offender who are undertaking construction program Probation Hostels Institution Pokok Sena, under the auspices or supervision of the Social Welfare Department Orissa State. Based on reports Probation Hostels Institution (L) Pokok Sena, for 2 (two) years to understand that the highest percentage problems in juveniles that no problem in harmony in the house with many problems. Researchers studying the case for religious programs effectiveness in solving and deterring build character of children Probation Hostels Institution (L) Pokok Sena.
This study reveals the benefits and effects of programs executed by the Probation Hostels Institution (L) Pokok Sena. Studied aspect of thinking is inductive logic by using SWOT to obtain the effectiveness of the concept of descriptive case using qualitative reasoning. Feedback received through interviews as primary sources and review on literatures as a secondary source. This study concluded that the implementation of religious programs able to solve the problem of abuse of juveniles with mental construct and furnish a new spirit and motivation to child offenders to rehabilitation, and the result of this religious program able to bind back straps affection between the child and the offender parents who had previously distant and fostered a harmonious relationship with responsibility.
Actions (login required)