Muhammad Zaki Ichsan Noe, , (2013) Penilaian Projek Pencegahan Pencemaran dan Peningkatan Kualiti Air Sungai Raja Alor Setar, Kedah: Satu Pendekatan IRBM. Masters thesis, Universiti Utara Malaysia.
Text




s809250.pdf


Restricted to Registered users only
Download (2MB)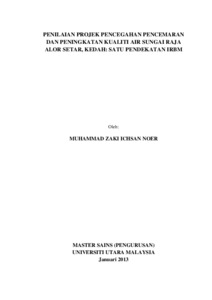 Preview
Text




s809250.pdf


Download (488kB) | Preview
Abstract
The objective of this study is to assess the successful of The Pollution Controlling and Water Quality Improvement Project at Sungai Raja Alor Setar, Kedah. This project is a part of actions over The Integrated River Basin Management (IBRM) in Sungai Raja. The study focuses on the assessment of the increase on Water Quality Index (WQI) and the behavior of the river users in which both of these aspects are parts of indicators toward the successful of the project objectives achievement. This study employ a descriptive qualitative approach in which the results of the study are concluded based on assessment over the results of analyses on water quality executed by the "Jabatan Pengairan dan Saliran (JPS) Negeri Kedah" and based on observations over the behavior of food stall owners, site walking visitors, and housing owners as the users of Sungai Raja. The study results show that WQI at Sungai Raja is fluctuated as an indication of the existence of unknown pollution sources, or probably, an indication that the efforts by JPS to improve the quality of the river do not meet the suitable approaches. In addition, the study results show that the behavior of some of food stalls owner have meet the level of awareness to protect the river from pollutants. On the other hand, efforts are required to increase the awareness and to enforce rules and regulations over site walking visitors and housing owners in order to safeguard Sungai Raja from pollution and deterioration.
Actions (login required)