Mohamad Akhyar, Ismail Al-Tantawi (2012) Kitab Hidayah Al-Sibyan, Karangan Abu Abdullah Husein Bin Muhammad Nasir Bin Muhammad Thayyib Al-Mas'udi Al-Banjari: Kajian Tahqiq dan Analisis. Masters thesis, Universiti Utara Malaysia.
Text




s804074.pdf


Restricted to Registered users only
Download (11MB)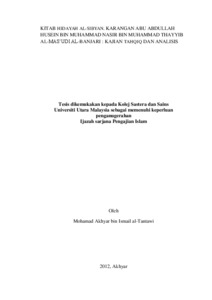 Preview
Text




s804074.pdf


Download (724kB) | Preview
Abstract
This study aims to clarify the matter of faith and worship contained in the book Hidayah al-Sibyan in order to facilitate public understanding and practice. One of the methods used to achieve this is by describing the content of a text. The book was written by the famous scholar, Muhammad Nasir Husein who lived in the Nusantara Archipelago region around the 20th century. Specifically, the study examined and analysed the chapters on faith and worship expressed in classical Malay language. In addition, it also described the sentence structure using the contemporary approach and explained the problems related to the knowledge contained in the book .Furthermore, this study conducted a takhrij on the hadith and determined the surah and critically analysed several current issues identified in the aspect of worship based on the views of the ulama. This is qualitative study. The data was obtained from people who have the authority in the field of faith and worship in the state of Kedah. Data and information were analyzed using the descriptive and deductive methods. Meanwhile, discussions related to faith explained the 20 mandatory nature of Allah and the compulsory nature, the impossible nature, and the possible (harus) nature of the prophet A.S. The book also discussed issues related to ibadah such as prayers, fasting, zakat and hajj. The findings showed that the faith and worship were performed in the opinion of the Sunni sect Wa al-Jama'ah and Shafi'i sect. Therefore, this study found that the book Hidayah al-Sibyan has a big influence on the Malay intellectual outlook.
Actions (login required)