Ng, Yong Hee (2001) Online Clinical System. Masters thesis, Universiti Utara Malaysia.
PDF




Ng_Yong_Hee,_2001.pdf


Restricted to Registered users only
Download (3MB) | Request a copy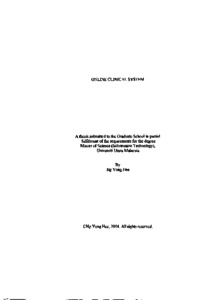 Preview
PDF




1.Ng_Yong_Hee,_2001.pdf


Download (277kB) | Preview
Abstract
The main objective of the project is to develop a usable, quality and a online clinical system in the web. This system is developed by using software Visual InterDev 6.0, SQL Server 6.0, Personal Web Server and Macromedia Flash 4. The Visual InterDev 6.0 is chosen as a tool to create and edit source codes Active Server Page. Overall, this project is to provide quality information on the health
care and clinical for user to access. Furthermore, this project can be an essential part of virtual medical office. It can be a training tool for medical students and
residents.
Actions (login required)