Al-Matari, Yahya Ali Ahsen Tamsh (2013) Board of Directors, Audit Committee Characteristics and The Performance of Public Listed Companies in Saudi Arabia. PhD. thesis, Universiti Utara Malaysia.
Text




s92869.pdf


Restricted to Registered users only
Download (2MB)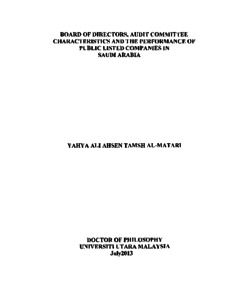 Preview
Text




s92869.pdf


Download (1MB) | Preview
Abstract
This study examines the relationship between the internal corporate governance mechanisms related to the board of directors, the audit committee characteristics and the performance of listed companies on Saudi Stock Market (TADAWL) in 2010, excluding financial companies. The theoretical foundation of this relationship was provided by the agency and institutional theory. The data on the relationship between the audit committee and internal audit function was collected through a mail questionnaire. Of the 135 questionnaires distributed, 73 questionnaires, representing a response rate of 4.07 percent, were returned of which 62 (45.93 percent) were usable responses. Other information on firm performance, board of directors and audit committees characteristics was obtained from the annual reports of the respective companies (year-ending 2010). By using the multiple regression analysis, the results show that the effect of internal corporate governance variables on return on assets and Tobin's Q was somewhat different. The results indicate that the proportion of non-executive directors was found to be positively significant to return on assets. However, the board size was found to be negatively significant to Tobin's Q. For audit committee characteristics, the extent of audit committee reviews of IA proposals variable was reported to be positively significant to both measures of firm performance (return on assets and Tobin's Q).In relation to the practical and theoretical contribution, this study provides theoretical validity by suggesting that institutional theory may be more appropriate than agency theory in describing the practices of corporate governance in developing countries such as Saudi Arabia. From a practical perspective, the findings of this study provide feedback to the regulators (e.g. Capital Market Authority) and the companies in Saudi Arabia in a number of ways.
Actions (login required)