Rafidah, Abdul Hamid (2001) Lotus QuickPlace As A Knowledge Management Solution For MSc (IT) Program Courses. Masters thesis, Universiti Utara Malaysia.
PDF




Rafidah_binti_Abdul_Hamid,_2001.pdf


Restricted to Registered users only
Download (6MB) | Request a copy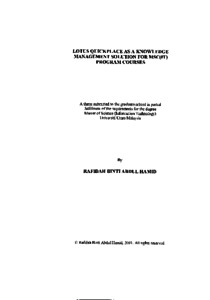 Preview
PDF




1.Rafidah_binti_Abdul_Hamid,_2001.pdf


Download (466kB) | Preview
Abstract
Knowledge Management is one of the hottest topics in organization nowadays. The focus of the efforts of many businesses is to meet the challenges of competition in the modern knowledge economy. It also provides a powerful way of looking at the way the organization organizes itself and uses its intellectual resources and promises a means of
humanizing the approach to modern technology, putting the understanding of human intellect and motivation at the center. It is up to organizations to determine what information qualifies as intellectual and knowledge-based assets because not all information is knowledge. In general, however, intellectual and knowledge-based assets fall into one of two categories that is, explicit or
tacit. Included among the former are assets such as patents, trademarks, business plans, marketing research and customer lists. As a general rule of thumb, explicit knowledge consists of anything that can be documented, archived and codified, often with the help of IT. The concept of tacit knowledge, or the know-how contained in the people's heads, is much harder to grasp. The challenge inherent with tacit knowledge is figuring out how to
recognize, generate, share and manage it. In this case, Knowledge Management tools enable organization to overcome the above mention problem. Knowledge Management tools run the complete range, from standard, off-the-shelf e-mail packages to sophisticated collaboration tools designed specifically to support community building and identity. Generally, tools fall into one or more of the
following categories namely e-learning applications, discussion and chat technologies, synchronous interaction tools, and search and data mining tools. This project "Lotus QuickPlace As A Knowledge Management Solution for MSc(IT) Program Courses" makes use of the technology of Knowledge Management tools to create solution in helping organization to develop a strategy
that focuses on how to extract the knowledge in the organization. Lotus QuickPlace has been mainly used in implementing this project.
Actions (login required)