Noorhasni, Hasan (2011) Perbezaan Hasil Kerja Kursus Amali di Kalangan Pelajar Rendah Pencapaian dan Pelajar Tinggi, Pencapaian Terhadap Matapelajaran Kemahiran Hidup Bersepadu Sekolah Menengah. Masters thesis, Universiti Utara Malaysia.
Text




s800588.pdf


Restricted to Registered users only
Download (1MB) | Request a copy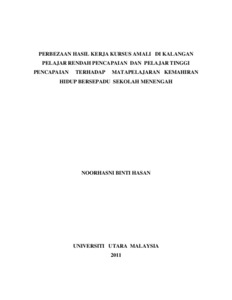 Preview
Text




s800588.pdf


Download (400kB) | Preview
Abstract
The objective of this research is to identify the source of differences between students' practical coursework among the less able and more able students towards Living Skill practice. The participants of this qualitative study is consist of 6 students from 2 Jujur who is from the more able class and 5 students from 2 Dedikasi which is a class of less able students and also teachers at a secondary school in Perlis. Data from this study include interviews and observation towards the practical process being carried out by the students and also teachers who teach those classes. All those chosen samples are involved with the Living Skill Learning component such as needlework practice and carpentry. The finding reveals that the less able students could produce better results in their practical coursework compared to the more able students. This factor is due to the less able students being really interested in the practical coursework compared to the theory classes. The excellent students are lacking of motivation in doing practical coursework as they feel that the course will consume a lot of times thus, it wastes their time if compared with the ordinary lesson in classroom. However, the findings also show that, there are some less able students who produce very poor results in their practical coursework as they are not interested and lack motivation. The research findings also prove that not all more able students produce unsatisfactory results for this coursework as there are some of them who could produce excellent result due to their interest and they do have intrinsic motivation to the particular subject, to get the best result in their PMR examination. They also fell that there is relevance of this field with their interest and future career. Hence teachers need to help students to become interested in Living skill and students need to maintain their interest in the field as they further their studies in the future.
Actions (login required)