Noorhaniyanti, Muktarudin (2011) Hubungkait Antara Gaya Asuhan dan Gaya Pembelajaran Terhadap Masalah Sosial dan Masalah Pembelajaran di Kalangan Remaja. Masters thesis, Universiti Utara Malaysia.
Text




s800602.pdf


Restricted to Registered users only
Download (4MB) | Request a copy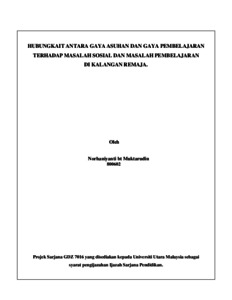 Preview
Text




s800602.pdf


Download (1MB) | Preview
Abstract
This research was are survey research and interview which has been practice as qualitative and quantitative method. Involve of 74 form 4 student in survey research and 5 student in interview research which has been conducted in Sekolah Menengah Kebangsaan Naka, daily secondary school which located in rural area in Padang Terap district in Kedah. Objective of this study were identify the parenting style and the relationship of delinquent student. The other objective were to identify the learning style and the learning problem. Research had been done within three months beginning early October until December 2010. The data collected from Paulson (1994) parenting style instrument to find the relationship with the delinquent student. For the learning style and the learning problem interview method has been done. For the quantitative method, the descriptive result show that mostly parent practice authoritative, followed by permissive and lastly authoritarian. Hypothesis test show that there are intermediate correlation relationship between parent acting and social problem (r = -0.384) while no correlation relationship between parent obey toward religious, parenting style and parent loving with the social problem. T-test show no significant difference between social problem and student gender (t(74)=7.842, P=.007). Qualitative method show that most of the student practice the active and visual. While the global, reflective, verbal, sensing and intuitive learning style show balance practice among the students. The student that have problem in learning consist of learning technique, attitude, interest, motivation and interaction between student also the religious aspect were the student that have problem of the parenting style and those who are not achieve good performance in academic.
Actions (login required)