Mardziyah, Mohd Isa (2014) The acceptance of online waqf in Islamic banking institutions. Masters thesis, Universiti Utara Malaysia.
Text




s813318.pdf


Restricted to Registered users only
Download (1MB)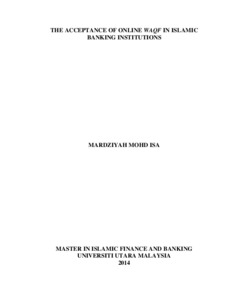 Preview
Text




s813318_abstract.pdf


Download (528kB) | Preview
Abstract
This research explores the factors influencing the acceptance of online waqf in Islamic banking institutions. The survey involved 230 Muslim respondents among Universiti
Utara Malaysia, College of Business (UUM COB) staffs. All the data are analyzed using software of Statistical Package for Social Science (SPSS) by conducting statistical
method namely, Independent Samples T-Test, Analysis of Variance (ANOVA), Pearson Correlation and Multiple Linear Regression analysis to archive the objectives of this
research. A conceptual framework is built based on the Technology Acceptance Model (TAM) by adding three new external variables, namely perceived religiosity, perceived
self-efficacy and amount of information to further explain the acceptance of online waqf. The results showed that four variables are positively correlated with the acceptance of
online waqf at 95% and 99% of confidence level. In addition, the results also identified three factors which are perceived usefulness, perceived ease of use and amount of information found significant in influencing the acceptance of online waqf. However, perceived religiosity and perceived self-efficacy is found to be insignificant predictor. Therefore, understanding what influences users to accept and use online waqf can be beneficial to banks, system developers and marketing practitioners in developing and marketing online waqf services that will be acceptable by the target market. Other than that, this study also propagate valuable insights for Islamic banking institutions to introduce online waqf in the future where the factors analyzed could be used as a guideline for better planning and implementation of online waqf.
Actions (login required)