Nurul Labanihuda, Abdull Rahman (2014) Determinants of Islamic home financing selection : A study in Kuala Lumpur. Masters thesis, Universiti Utara Malaysia.
Text




s814585.pdf


Restricted to Registered users only
Download (3MB)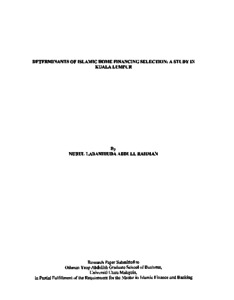 Preview
Text




s814585_abstract.pdf


Download (3MB) | Preview
Abstract
Nowadays, household in Kuala Lumpur are unable to purchase a house at the market price because they have to face many difficulties. They need to undergo lot of procedures and conditions applied to obtain loan from the financial institution to support their affordability to buy a house. This research aims to investigate the determinants
which influence the customer in choosing Islamic home financing including attitude, subjective norms, pricing, religious obligation, government intervention and service
provision. Samples were taken from 150 respondents who have experienced purchasing house in Kuala Lumpur. The methodology used in this research is one way ANOVA, t-Test, Pearson Coefficient and Multiple Regression. Result of this study shows there is significant relationship between attitude, religious obligation, and service provision
between Islamic homes financing selection. Thus, this research provides useful information to community by increasing their level of confidence towards Islamic home
financing. From this study, the researcher also suggests bank managers to improve several factors such as marketing, operational and customer service in order to attract
customers purchasing their products. Finally, government intervention is vital in creating new policies, to control the house prices and provide variety of scheme in order to help the household to buy their own house.
Actions (login required)