Balqis, Yaacob @ Salleh (2014) Faktor-faktor yang mempengaruhi kesedaran usahawan kecil muslim terhadap skim Ar-Rahnu (pajak gadai Islam). Masters thesis, Universiti Utara Malaysia.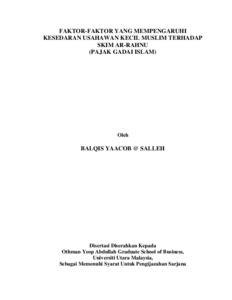 Preview
Text




s809964.pdf


Download (1MB) | Preview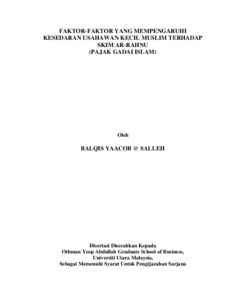 Preview
Text




s809964_abstract.pdf


Download (888kB) | Preview
Abstract
Microcredit industry in Malaysia has flourished over nearly three decades ago with the advent of awareness of the advantages of Islamic banking and financial system. There are a variety of micro-credit facilities provided especially to assist small Muslim community to expand their business, including micro-financing facility provided by various ar-Rahnu institutions (Islamic pawn) throughout Malaysia. This study was undertaken to examine the factors that influence small Muslim entrepreneur to take up ar-Rahnu scheme in helping them improve their businesses according to Islamic principles which are consist of four factors, understanding the sharia, prices/wages, location and advertising. Pearson's correlation test were utilised to analyse the relationship between these variables either interplay awareness scheme or not. The study was conducted on 200 respondents around Pekan Rabu complex Alor Setar Kedah consisting of Muslim small entrepreneurs. Results showed that the relationship between variables is low and weak, which means understanding the sharia factors, prices/
wages, location and advertising charges institution does not have a strong relationship but factor price/wage is not significant in affecting small businesses Muslim awareness of the ar-Rahnu scheme.
Actions (login required)