Odat, Abdallah Ahmad Abdullah (2008) The Development Of A Mobile Services System: A Case Study For University Inn. Masters thesis, Universiti Utara Malaysia.
PDF




Abdallah_Ahmad_Abdullah_Odat.pdf


Restricted to Registered users only
Download (7MB) | Request a copy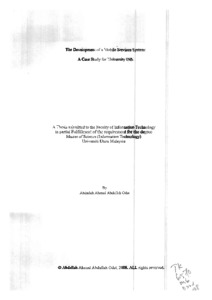 Preview
PDF




Abdallah_Ahmad_Abdullah_Odat.pdf


Download (1MB) | Preview
Abstract
The mobile device and the emergence of wireless technologies are rapidly increasing. Firm adopted mobile devices and wireless technologies are adopted in order to assist and improve their business performances. With mobile commerce (M-commerce) technology, mobile ticketing, booking reservation and all other services possible to be done on mobile, service will be possible anywhere at any time. This research aimed to study the needed of the university INN to do all the services and/or add some services to be done on mobile application. There are many new international student come to UUM every semester, some of them choose the University INN to live in it through the study time. University INN provide several services to the student they live on it or not, like a travel from UUM to Penang and KL, reservation airline ticket, other kind of services such as room maintenance. This research will provide a prototype that allow the student to check all of these services through the WAP application, this allow students to check if there are rooms available to book it, check the important service like the maintenance services to the room, available travel and reservation a ticket. This will allow the student to check these services in anywhere and anytime.
Actions (login required)