Norfazni, Mustaffa (2014) Penggunaan serta keberkesanan ICT dalam pelaksanaan tugasan harian : Satu kajian di Unit Perancang Ekonomi Negeri Kedah. Masters thesis, Universiti Utara Malaysia.
Text




s813225.pdf


Restricted to Registered users only
Download (294kB)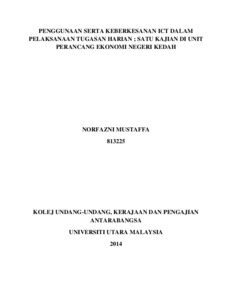 Preview
Text




s813225_abstract.pdf


Download (161kB) | Preview
Abstract
The purpose of this research is to identify and understand the use of Information Communication Technology (ICT) in the execution of daily work among public servants in the Kedah State Economic Planning Unit (EPU). Five aspects were studied to answer the questions of this research. The aspects are related to ICT facilities provided in the office (hardware and software), the frequency of using those ICT facilities, the skill in using the ICT facilities, perception of ICT usage and also factors limiting the use of ICT in the office. This research samples consist of forty public servants working in EPU. The technique used for this research is questionnaire method and using descriptive analysis. The research shows that the ICT facilities available in EPU are complete and also in a good condition. However, the level of internet infrastructure is still low and the capacity is not enough to serve the government applications. A few suggestions are given to the expertise, public servants and others to further consolidate the use of ICT in improving the worker's performance.
Actions (login required)