Ahmad Khilmy, Abdul Rahim (2013) Pembiayaan perdagangan dan perlaksanaannya dalam sistem perbankan Islam di Malaysia. PhD. thesis, Universiti Utara Malaysia.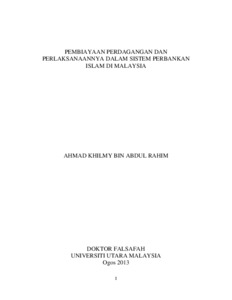 Preview
Text




s91453.pdf


Download (17MB) | Preview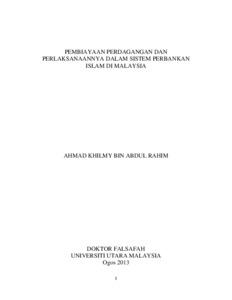 Preview
Text




s91453_abstract.pdf


Download (18MB) | Preview
Abstract
This study aims to analyse the implementation of the Islamic Trade Finance (ITF) products in the Islamic banks in Malaysia. The research focuses on the application of the
muamalat contracts and the related issues that arise during the implementation of these instruments. Previous literature highlights several issues in the operation of the Islamic banking products such as using controversial contracts, high service charges and ta"wid. The study sets five objectives to be achieved. First, to identify the types of business financing products offered by Islamic banks; second, to identify and analyse the syariah
contracts being used; third, to examine and compare selected banks with respect to the application of the syariah contract and related issues that arise; fourth, to determine how far the banks adhered to the syariah framework in the implementation of the products; and fifth, to suggest alternative banking solutions to the syariah issues that arise. The research sample involved 16 Islamic banks, whilst the detailed study was directed at 5 selected banks: Bank Islam Malaysia Berhad, Bank Muamalat Malaysia Berhad, Kuwait Finance House (M), RHB Islamic and Maybank Islamic. Based on the aims and objectives of the study, the methodology employed is qualitative in nature. The
procedures used to gather data were library research and field work involving interview and document analysis. Findings from this study revealed that 9 contracts were applied in the Islamic Trade Finance products, which are, murabahah, bay" al-dayn, bay" al-"inah, tawarruq, bay" bithaman ajil, wakalah, kafalah, mudarabah, musyarakah and the alwa" ad principle. The findings subsequently identified 8 syariah issues that arise, which are:
(a) riba, (b) issues about subject matter, (c) issues arising from contracts being used, (d) insurance, (e) UCP 600, (f) foreign currency, (g) documentation, and (h) technical issues related to akad. Finally, the study identified several factors concerning syariah issues and differences among the banks in terms of product implementation and contracts, which include no specific guidelines from BNM, the referential preference of the syariah bank advisors and the bank status, either local or foreign in nature.
Actions (login required)