Mazitah, Hussin (2014) The effects of organizational factors on knowledge management effectiveness towards organizational performance in Malaysia. DBA thesis, Universiti Utara Malaysia.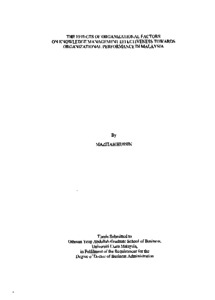 Preview
Text




s93514.pdf


Download (5MB) | Preview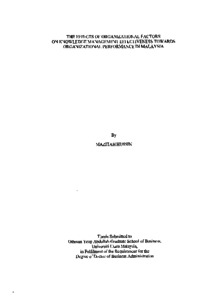 Preview
Text




s93514_abstract.pdf


Download (6MB) | Preview
Abstract
Knowledge Management (KM) has become the centre of attention in most organization lately. Not to be left out, Malaysian Government has also structured their KM Blueprint in guiding the Malaysian Public Sectors for managing their organizational knowledge. This is to improve their service delivery and decision making process through an informed
knowledge environment. Nevertheless, the study that has been done by MAMPU showed that the application of KM in the public sector was not fully optimised, due to the lack of the sharing culture and the differences in the understanding of its concept. Although organizations are implementing the KM, however the effectiveness of this process is questionable. Knowledge is seen, not to have been managed effectively and efficiently as well as not been proportionately distributed within an organization. The thesis of this study is looking at the organizational factors that will influence the knowledge management's
effectiveness that would provide an impact on the organizational performance. Therefore, this study seeks to deal with the following research questions: i) What are the factors that will affect KM's effectiveness?, ii) Is there any relationship between KM's effectiveness and organizational performance? and iii) Does KM's effectiveness mediate the relationship between knowledge management practices and organizational performance?
An integrative theoretical model of KM's effectiveness and OP was developed. The hypotheses were examined by means of questionnaire surveys to address the research questions and the results were significant. Therefore, the empirical evidence has proven that this model is applicable in the Malaysian contexts. The findings confirmed that
organizational factors, KW, OC, KMP and IT do affect the effectiveness of KM. These have provided an impact on OC. It was also proven that KME mediates the effect of KMP towards OP. This study has shed some lights in the area of KM. It is high time for the Malaysian Public Sectors to pay attention on the importance of managing organizational knowledge in order to be able to fulfill the commitments in the service delivery process through an informed knowledge environment.
Actions (login required)