Al-Dhaafri, Hassan Saleh Hassan (2014) Organizational performance and excellence of Dubai Police role of total quality management and enterprise resource planning. PhD. thesis, Universiti Utara Malaysia.
Text




s93560.pdf


Restricted to Registered users only
Download (4MB)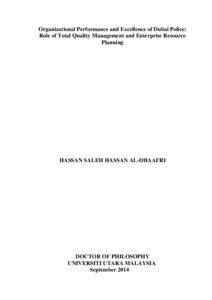 Preview
Text




s93560_abstract.pdf


Download (1MB) | Preview
Abstract
The main purpose of this study was to investigate the mediating effect of organizational excellence (OE) on the relationship between total quality management
(TQM), enterprise resource planning (ERP), entrepreneurial orientation (EO), and
organizational performance (OP). At the same time, it also investigated the mediating effect of entrepreneurial organizational culture (EOC) on the relationship between EO and OP. The motivation for this study was driven by the inconsistent findings in the literature concerning the relationships between TQM, ERP, EO, and organizational performance. Due to the inconsistent results, a new research has emerged and this has prompted further investigation on the effect of other variables that may better explain the nature of these links. In the related literature, many theories have suggested that the compatibility between strategies, resources, and capabilities as the keys for success. To achieve this purpose, this study has integrated different theories such as
the resource-based view, knowledge-based view, and the innovation theories in order to provide the effect of OE and EOC on successful strategy implementation. Questionnaires were distributed to 565 Sections of the Dubai Police. 355
questionnaires were returned and used in the analysis using the PLS-SEM. The results of this study revealed that TQM, ERP, and EO were positive and have also been proven to be significant predictors of organizational performance. More importantly, the results have also confirmed the mediating effect of organizational excellence on the relationships between TQM, EO, and organizational performance. This study also supported the premises of the resource-based view theory, the knowledge-based view theory, and the innovation theory by reaffirming the importance of the supportive OE and EOC for any successful strategy implementation in enhancing organizational performance through the implementation of innovative practices.
Actions (login required)