Noor 'Aqilah, Halim (2014) Development and evaluation of an engaging web-based content sequencing system for learning basic programming. Masters thesis, Universiti Utara Malaysia.
Text




s812687.pdf


Restricted to Registered users only
Download (4MB)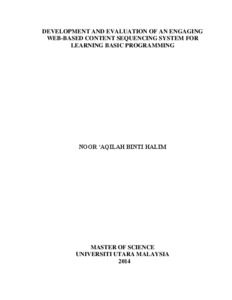 Preview
Text




s812687_abstract.pdf


Download (358kB) | Preview
Abstract
Java basic programming is one of programming languages that is offered to students as a
compulsory course for Information Technology or Computer Science programs. This subject requires students to learn skills and techniques of programming rather than theoretical concepts. Usually, students have problems to capture and understand the content of the course which resulted in low performance or withdrawal from the program and even the education system. In general, web-based learning can be used as a tool to improve learning including programming courses. A specific instance of web-based learning; called content sequencing systems have a high potential to provide adaptive learning for programming languages. Adaptive content sequencing systems analyze individual difference of students and sequence the learning contents based on the students' needs. By addressing students' individual differences, it helps students to be actively engaged in the learning process. An engagement is a key element in learning. In this research, the level of students' engagement is measured using "flow theory". This theory suggested three cognitive conditions when one is doing a particular activity, namely flow (engaged), boredom, and anxiety. Engagement occurs when an individual has an equal level of skill with the given level of challenge. Anxiety and boredom occur when there is unequal level of challenge and skill. The fundamental concepts of the
theory are represented in a user interface design by imposing a component known as "flow buttons". The used of the buttons is described as Skill-Challenge Balancing (SCB) technique and it is adapted in a web-based learning system called "LearnJava". It incorporates SCB where its main components are a user interface design and a sequencing engine. Based on this technique, the students' level of knowledge will be evaluated and analyzed to identify their current level of skill. The technique will
sequence the learning contents based on the students' current level of skill to keep them
engage in the web-based learning. An experimental study was conducted to evaluate how
effective SCB in helping students to engage in web-based learning. The results suggested
that the SCB technique improved students' engagement in web-based learning.
Actions (login required)