Rosly, Abas (2014) Impak kelompok devian terhadap tingkahlaku juvana: Kajian kes di Bandaraya Georgetown, Pulau Pinang. Masters thesis, Universiti Utara Malaysia.
Text




s804848.pdf


Restricted to Registered users only
Download (1MB)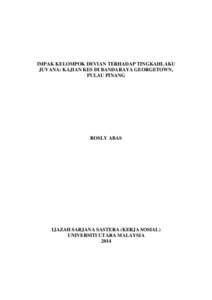 Preview
Text




s804848_abstract.pdf


Download (652kB) | Preview
Abstract
The involvement of juvenile groups in deviant behaviours has resulted in many social problems in our community at present. Research on the pattern of juvenile involvement in deviant behavior and the influence of their peers are not given enough attention and need to be looked further. This research aims to understand the profile of the deviant juvenile group which contributes to the deviant behavior by investigating the juvenile profile, element, dimension and involvement patterns pertaining to deviant behaviors among juveniles in Georgetown, Pulau Pinang.. A total of nine respondents were selected as samples and interviewed, snowball method of sampling was used. The interview method is implemented in a structured interview was conducted through interview protocol set by researcher. Qualitative data were analyzed based on theme. The study reveals that there are nine themes that contribute to social implications among juveniles. Among them are road rage, pornography viewing, sexual promiscuity, smoking, loafing, drug distribution, punk
culture, prostitution and alcoholism. The dimensions of deviant groups also include
peers influence, the desire to try and less parental attention. They influence each other and share experiences as an inducement involvement in deviant activities. The findings of this research also uncover comprehensive actions which can be taken in order to curb and overcome the deviant behaviours among juveniles. This research also unveils behaviour signs in juveniles who are involved with deviant behaviour groups. Hence, the responsible authorities and relevant agencies could come up with an appropriate instrument to detect early signs of deviant behaviours among
teenagers in order to eradicate social problems among juvenile. The research contributes towards literature review on juvenile group behaviour and related policies on the need to understand deviant behavior pattern among juveniles.
Actions (login required)