Junita, Budi Rahman (2014) Kuasa insaniah negara Malaysia dan imej-imej selebriti Tun Dr. Mahathir Mohamad. PhD. thesis, Universiti Utara Malaysia.
Text




s90787.pdf


Restricted to Registered users only
Download (6MB) | Request a copy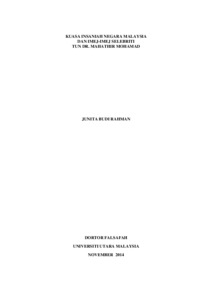 Preview
Text




s90787_abstract.pdf


Download (1MB) | Preview
Abstract
This research was conducted to answer the following questions: What was the context of the soft power of the nations in Southeast Asia while Malaysia was building its soft power? What kind of soft power did Malaysia build during Tun Dr. Mahathir Mohamad's leadership? What was the form and the celebrity image that was constructed by Tun Dr. Mahathir Mohamad to support and maintain soft power of Malaysia? What was the public's acceptance of Tun Dr. Mahathir Mohamad's efforts? The objective of this study is to identify and understand the soft power built by Tun Dr. Mahathir Mohamad's leadership. Data were collected by field research in Kuala Lumpur, Putrajaya and Langkawi Island, and from literature review and interviews. This study is descriptive, and a critical discussion of all the questions to meet the research objectives. The study details the considerations of Malaysia in the regional context of Southeast Asia in developing soft power. Besides there were efforts to influence an international audience that Malaysia was efficient, trustworthy and clean as an image of Malaysian soft power. The celebrity image of Mahathir Mohamad which he got through his achievement as well as by his media exposure contributed to strengthen and maintain Malaysia's soft power and star power. The study also found that there was public acceptance with the creation of a para-social relationship through various acknowledgements and the establishment of fan and followers clubs. The study showed that Dr Mahathir Mohamad's efforts in developing Malaysia's soft power generated star power as well. This study bridges the gap in the knowledge about the nature of power in the Study of International Relations and Popular Cultural Studies and also Celebrity Study by offering the concept of star power in the framework of the theory of soft power.
Actions (login required)