Sunarko, Bagus Sigit (2013) Continuing military dominance in the internal security approach of post-authoritarian Indonesia, 1998-2008. PhD. thesis, Universiti Utara Malaysia.
Text




s92142.pdf


Restricted to Registered users only
Download (1MB)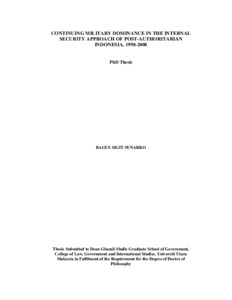 Preview
Text




s92142_abstract.pdf


Download (165kB) | Preview
Abstract
The purpose of this study is to examine the continuing dominance of the Indonesian Military Forces (TNI) in dealing with internal security issues in the post-New Order era in Indonesia. In attempting to investigate the persistent influence of the military, this study traces the history and nature of the TNI from the periods of 'Liberal Democracy', the guided democracy under Sukarno till the 'New Order' under Suharto and compares the roles of the dual function doctrine in Indonesian society as in the past and also in the present. The role of civil society groups, the Indonesian National Police, and the civilian political elites are also discussed. The study employs qualitative analysis and utilizes principal-
agent theory in identifying and mapping the security sector and in analyzing the capacities that security personnel have in their relationships. The data for the research was collected through personal in-depth interviews with political experts and political elites in Indonesian parliament and government and through secondary sources. The findings show that the military in the post-New Order remains influential and is not totally excluded from internal security matters. This study also finds that the government still tolerates the continuing involvement of the military in internal security approach because it has political agenda of its own, that is, to secure its regime from threat of political and security instability. The threats originate particularly from civil militia, radical religious groups and terrorists that cannot be handled by the police alone. Based on the study, the internal security approach in the post-New Order Indonesia is developed from a
combination of the government's and the Military's political interest. The TNI's
commitment in divesting itself from its formal role in politics and in developing a new military doctrine with a focus on external defence, is indeed a half-hearted attempt to tame the public demands and to protect its continuing presence in the Indonesian politics. It concludes that a greater tolerance of the government towards the non-defensive role played by the TNI is not simply rooted into the cultural and historical experiences, but is also linked to the government's pragmatic political interest.
Actions (login required)