Aboshnaf, Abdulla Ali (2008) Web-based Accommodation Reservation System For Kolej Maybank. Masters thesis, Universiti Utara Malaysia.
PDF




Abdulla_Ali_Aboshnaf.pdf


Restricted to Registered users only
Download (6MB) | Request a copy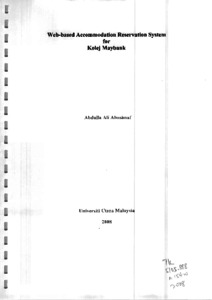 Preview
PDF




Abdulla_Ali_Aboshnaf.pdf


Download (1MB) | Preview
Abstract
Accommodation plays a large part in a student life, who has got an offer to study at university; they are concern about their accommodation availability. This paper focuses design of a Web-based accommodation reservation system for Kolej Maybank. The system has been implemented in many educational other institutes especially at university level. This develop system was developed using ASP, object-oriented analysis and UML design. The study shows that the system able to record and deliver precise information at the time to right person from anywhere at any time. It is able to provide more support and information for the staff of Kolej Maybank.
Actions (login required)