Fuad, Azmi (2014) Perjanjian antarabangsa dan perlindungan hak kekayaan intelektual domestik: Kajian tentang perlindungan hak kekayaan folklore di Indonesia. Masters thesis, Universiti Utara Malaysia.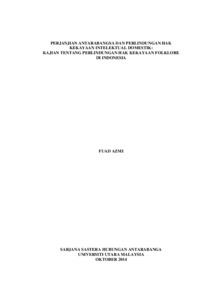 Preview
Text




s87096.pdf


Download (1MB) | Preview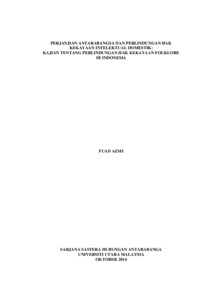 Preview
Text




s87096_abstract.pdf


Download (461kB) | Preview
Abstract
One of important issues relating to intellectual property rights today is determining the extent to which protection of indigenous intellectual property commonly known as folklore or traditional cultural expression and traditional knowledge is undertaken by individual countries. Conflict of interest between developed countries and developing countries is causing major problems. The Problem Statement of this study is to examine to what extent Indonesian Law protects indigenous intellectual property rights and to what level has International Law been incorporated into Indonesian domestic law. This study employs the qualitative method with emphasis on descriptive research. Data an obtained by undertaking library research and through case studies. By using this method an
examination in made of fate of folklore in Indonesia and the incorporation of international law into domestic Indonesian law. The result showed firstly that property in the form of folklore is traditional Indonesian values in the order of social life-political-culture-economic and living environment in the midst of the people of Indonesia. Secondly the system of International Laws pertaining to the
protection of Intellectual Property Rights of folklore are still not satisfactory because they tend to protect the interest of developed countries. Thirdly efforts made to law enforcement against violation of the Copyright for folklore with enforcing the law is based on Law No. 22 of 2002 concerning copyrights in Indonesia. Fourthly protection of Intellectual Property Right of folklore in the future will not be accomplished either because it collided with the characters in folklore, mostly anonymous, communal (collective), does not contain a new element (novelty), no written or documented and forever belong to the public while in the IPR system requires otherwise. In to encourage further research on how developing countries can protect their national intellectual property rights pertaining to folklore.
Actions (login required)