Ahmeid, Ahmeid Mohamed (2014) The normalization of the United States-Libya relations, 2003-2006. PhD. thesis, Universiti Utara Malaysia.
Text




s91640.pdf


Restricted to Registered users only
Download (4MB) | Request a copy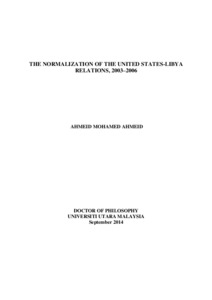 Preview
Text




s91640_abstract.pdf


Download (766kB) | Preview
Abstract
The purpose of this study is to examine and analyze the factors leading to the normalized relations between the United States (U.S.) and Libya in 2003–2006. The theoretical framework of this study was the rational actor model of foreign policy decision making, which held that the foreign policy decisions were made in such a way as to maximize benefits while minimizing costs. The study was divided into three parts. The first part looked at the political factors leading to the normalized relations between the two countries. These factors include the diplomatic, leadership and media. The second part looked at the economic factors such as the oil and economic sanctions. The last part looked at the security factors including terrorism and weapons of mass destruction, and the Libya's attitudes towards Israel. The data for this study were collected mainly from both primary and secondary sources. The primary sources included documents, agreements, and treaties that signed by Libya with the U.S. In addition, the researcher analyzed the outputs of the U.S. and Libyan policy- makers and institutions relating to the research topic, such as speeches, official correspondences, decrees, and decisions of both governments relating to each other. Interviews with knowledgeable people were also conducted. The secondary sources included books, journals, magazines and newspapers. Key findings over the
period studied indicated the importance of the political, economic, and security factors in forwarding the U.S. policy options towards the normalization of the U.S. - Libya relations in 2006. Furthermore, this study also concluded that the success of the normalized relations was a product of intertwining of these factors together through their influences on policy- makers of both countries to take flexible attitudes to resolve outstanding issues between them.
Actions (login required)