Zainun, Ngah (2001) Sistem Tempahan Makmal Komputer : Pendekatan Secara Workflow. Masters thesis, Universiti Utara Malaysia.
PDF




Zainun_binti_Ngah,_2001.pdf

- Submitted Version
Restricted to Registered users only
Download (2MB) | Request a copy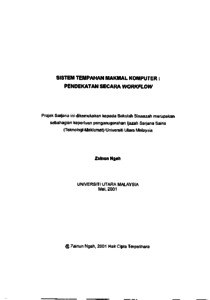 Preview
PDF




1.Zainun_binti_Ngah,_2001.pdf


Download (478kB) | Preview
Abstract
Workflow is concerned with the automation of a business process, in whole or part, during which documents, information or tasks are passed from one participant to another for action, according to set of procedural rules. Based on the literature review, workflow technology has given a lot of benefits to the organizations that implement it. Reservation of computer laboratory is a recurring process and it has a set of predefined procedural rules. Considering the successful implementation of workflow technology in many organizations, the process of reservation of computer laboratory can also be automated by using the technology of
workflow. This report will explain in detail about approach that is taken. Chapter 1 states the problem, the objectives, the scope and the project significance. Chapter 2 details the literature review on workflow including introduction to workflow, its benefits, fundamental concepts, product architectures and workflow management system. Then the literature review on successful implementation of workflow in certain organizations is discussed in Chapter 3. Chapter 4 details the methodology as well as the hardware and software used in the system development. Chapter 5 discusses the current system being implemented to manage the reservation of computer laboratory. The explanations include the issues and challenges faced by the computer laboratory administrators. Chapter 6 details the development of the computerized computer laboratory booking system. Lastly, the project advantages, disadvantages, limitations and proposal to upgrade the system performance are discussed towards the end of this report.
Actions (login required)