Noor Salwani, Hussin (2015) Perkahwinan tanpa kebenaran: Kajian terhadap kes-kes di Mahkamah Syariah Negeri Perlis dari tahun 2006 hingga 2010. Masters thesis, Universiti Utara Malaysia.

Preview
Text




s811754.pdf


Download (1MB) | Preview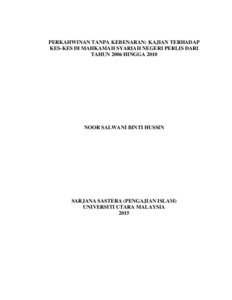 Preview
Text




s811754_abstract.pdf


Download (534kB) | Preview
Abstract
Marriage without consent is a violation of societal norms. Although it complies with the
"syarak" law; however, such marriages are often deemed as an offense in the eyes of the Islamic family law. Presently, marriage without consent is now a hot issue due to the sharp increase of cases across the border especially in Southern Thailand. This study aims to identify the stance of marriages without consent from the perspectives of the "syarak" law and Islamic family law in Malaysia. Examine some of the key factors that cause couples to perform marriages without consent outside the country and to analyze the impact of marriage without the consent towards the couples involved, their families and their social lives. This study employed a qualitative approach via content analysis. The researcher also conducted face to face interviews with officials in the Perlis
"Syariah" Court to help validate and support the findings. The data for this study were cases registered with the Perlis" Syariah" Court from 2006 to 2010. The analysis was
conducted to identify the key factors and implications of marriage without consent. The
findings revealed the following as some of the main causes for marriage without consent to take place- opposition from family or guardian, the desire for polygamy, complicated marriage procedures and married couples who come from abroad. As a result of such action, the couples involved had to deal with various legal implications, family rift and endure a negative perception from the society. The findings could help the Islamic religious department identify factors behind the increase of cases involving
marriages without consent, aid the department to reevaluate existing procedures and to educate the public of the risks and negative implications as a result of such an action.
Actions (login required)