Bazead, Saleh Mubarak Saleh (2015) Regional integration in the Arabian Peninsula and the Gulf: Investigation of the dynamics and challenges behind Yemen's failure to join the Gulf Cooperation Council for the Arab Gulf States (GCC). PhD. thesis, Universiti Utara Malaysia.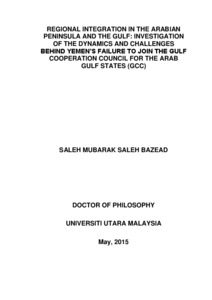 Preview
Text




s93484.pdf


Download (1MB) | Preview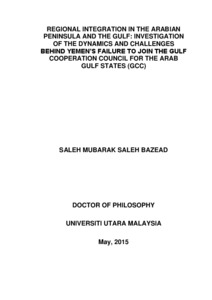 Preview
Text




s93484_abstract.pdf


Download (1MB) | Preview
Abstract
The Republic of Yemen was signalling its readiness to join the Gulf Cooperation Council (GCC), an influential political and security organisation in Persian Gulf. GCC had also evaluated the readiness of Yemen, but decided that Yemen was not ready to become a new member of GCC because of domestic political, economical and security reasons. In response, the Yemeni government rejected the argument saying that the real reason was Yemen as a republic was perceived as a rival that will create political imbalance regionally to the monarchy governments of Saudi Arabia and other
Gulf states. Therefore, this research aims to study the actual reasons behind the Yemen's failed attempts to integrate fully in the Arab Peninsular and Persian Gulf and to become member of GCC. The objectives of this research are to determine reasons and aspects of Yemen's failure to get GCC membership. Furthermore, this research tries to identify factors and ways to overcome this membership's hurdle for Yemen. In addition, this research also evaluates the impact of relations between Yemen and GCC member states, besides the involvement of regional and global powers like Egypt, Iran and United States (US) in influencing Yemeni integration with GCC. This research utilises qualitative method through library and archival researches and interviews with actors who were directly involved or participated in the
process of applying for GCC membership and Yemen-GCC relations. Theories of Functionalism and Neo-Functionalism are employed to analyse the Yemen-GCC relations especially on the membership issue. Findings of this research show that the failed attempts by Yemen to obtain GCC membership were politically and socio-economically motivated. By refusing to allow Yemen membership into GCC, Yemen was left to remain poor and be deprived in socio-economy in order to ensure it will not challenge the mighty Saudi Arabia as regional power that dominates the GCC. Moreover, Yemen is also at the forefront of Gulf regional politics against the influence and power of Iran. Hence, US intervention in Yemen will assist and strengthen Saudi Arabia in facing Iran and Yemen remains under the influence of Saudi Arabia and the US.
Actions (login required)