Amiruddin, Muhammad Jamil (2015) Kaedah penggunaan sumber hukum dalam berfatwa oleh Majlis Permusyawaratan Ulama (MPU) Aceh. Masters thesis, Universiti Utara Malaysia.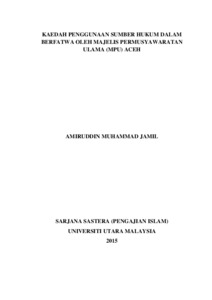 Preview
Text




s804705.pdf


Download (2MB) | Preview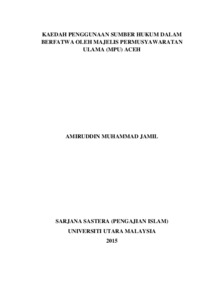 Preview
Text




s804705_abstract.pdf


Download (804kB) | Preview
Abstract
The procedure of using fixed sources of Islamic law is highly important in the fatwa (religious edict) practice. In the context of Aceh, Majelis Permusyawaratan Ulama (MPU) is an institution which has the authority to issue fatwas. However, the Aceh MPU has no standard and clear method in using the sources. Therefore, this research aims to analyse the method in using/deriving sources of law in Islam and the processes of issuing fatwas by the Aceh MPU. Furthermore, this study
identifies/examines the method of deriving Islamic law sources by the institution.
This research applies qualitative method through content analysis. Fatwas, documents and interviews are analyzed in order to produce a method of derivation of sources of Islamic law at the MPU. The findings show that even though MPU does not have a fix procedure in using the sources for issuing fatwas, there is a method already used by MPU in practice. The method is refer to the Al-Quran, Sunnah, ijmak, qiyas, masālih mursalat, sad zarā'i' and 'urf . Moreover, this study has found that this institution refers to prominent scholars, qawā'id fiqhiyyat and the existing laws in Aceh. This research can be used as guidlines for Aceh MPU to design a standard method of using sources of Islamic law and will ease the process of issuing fatwas.
Item Type:
Thesis (Masters)
Supervisor :

Ahmad, Kamarudin

and

Bahman @ Dahlan, Mohd Akram

Item ID:
5336
Uncontrolled Keywords:
Method of istinbat, source of law, ijtihad, istinbat, fatwa, Mufti
Subjects:
B Philosophy. Psychology. Religion > BP Islam. Bahaism. Theosophy, etc
Divisions:
Awang Had Salleh Graduate School of Arts & Sciences
Date Deposited:
21 Dec 2015 07:11
Last Modified:
18 Mar 2021 03:55
Department:
Awang Had Salleh Graduate School of Arts and Sciences
Name:

Ahmad, Kamarudin

and

Bahman @ Dahlan, Mohd Akram

URI:
https://etd.uum.edu.my/id/eprint/5336
Actions (login required)