Faridzah, Jamaluddin (2015) Alexander-Govern test using Winsorized means. Masters thesis, Universiti Utara Malaysia.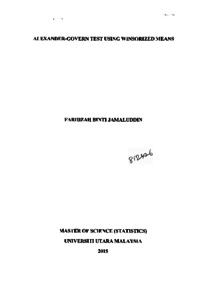 Preview
Text




s812426.pdf


Download (1MB) | Preview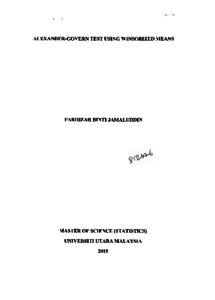 Preview
Text




s812426_abstract.pdf


Download (2MB) | Preview
Abstract
Classical tests for testing the equality of independent groups which are based on arithmetic mean can produce invalid results especially when dealing with non-normal
data and heterogeneous variances (heteroscedasticity). In alleviating the problem, researchers are working on methods that are more adapt to the aforementioned
conditions which include a procedure known as Alexander-Govern test. This procedure is insensitive in the presence of heteroscedasticity under normal distribution. However, the test which employs the arithmetic mean as the central tendency measure is sensitive to non-normal data. This is due to the fact that the arithmetic mean is easily influenced by the shape of distribution. In this study, the arithmetic mean is replaced by robust estimators, namely the Winsorized mean or adaptive Winsorized mean. The proposed
Alexander-Govern test with Winsorized mean and with adaptive Winsorized mean are denoted as AGW and AGAW, respectively. For the purpose of comparison, different Winsorization percentages of 5%, 10%, 15% and 20% are considered. A simulation study was conducted to investigate on the performance of the tests which is based on rate of Type I error and power. Four variables; shape of distribution, sample size, level of variance heterogeneity and nature of pairings are manipulated to create the conditions which could highlight the strengths and weaknesses of each test. The performance of the proposed tests is compared with their parametric counterparts, the t-test and ANOVA.
The proposed tests show improvement in terms of controlling Type I Error and increasing power under the influence of heteroscedasticity and non-normality. The AGAW test performed best with 10% Winsorization while AGW test performed best with 5% Winsorization. Under most conditions (74%), AGAW tests outperform AGW tests. Therefore, the Winsorized mean and the adaptive Winsorized mean can significantly
improve the performance of the original Alexander-Govern test. These proposed procedures are beneficial to statistical practitioners in testing the equality of independent groups even under the influence of non-normality and variance heterogeneity.
Actions (login required)