Rabab'h, Belal Sadiq Hamed (2015) Mathematics learning strategy and mathematics achievement among middle school students in North of Jordan. PhD. thesis, Universiti Utara Malaysia.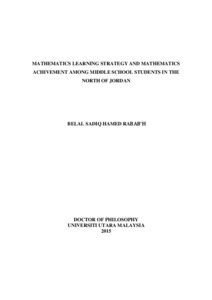 Preview
Text




s93598.pdf


Download (4MB) | Preview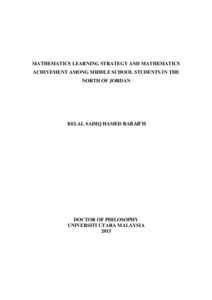 Preview
Text




s93598_abstract.pdf


Download (1MB) | Preview
Abstract
The results of 1999, 2003, 2007 and 2011 Trends in International Mathematics and Science Study (TIMSS) showed that Jordanian 8th grade students' achievement in mathematics is low. Mathematics Learning Strategy (MLS) has been identified as one of the attributing factors. To date, there is little study on MLS and mathematics achievement among Jordanian 8th grade students. The study aimed to identify the
level of differences between genders based on number, algebra, geometry, mathematics achievement and spatial visualization, and to what extent would the student's MLS factors such as attitude, motivation, self-regulation, self-efficacy and mathematics anxiety contribute to mathematics achievement. Additionally, the study aimed to determine whether spatial visualization mediates between the MLS factors and mathematics achievement. The respondents in this study, who comprised of 360 students, were selected through stratified random sampling, from eight public middle
schools in Alkoura District in the North of Jordan. The study used 65 items to assess the MLS. The mathematics test contains 30 items (number, algebra & geometry) while the spatial visualization test contains 32 items. The findings showed that female students scored higher than male students in numbers, algebra, and mathematics test but there are no gender differences in geometry scores. Male students performed better than their female counterparts in spatial visualization. The results also showed that mathematics attitude, motivation, self-regulation and selfefficacy contributed to mathematics achievement except mathematics anxiety. Spatial visualization plays a mediating effect between mathematics achievement and attitude, motivation, and mathematics anxiety. This study contributes to knowledge and social cognitive theory about the students' affective domain base on MLS factors
and spatial visualization which is important as prerequisite knowledge for learning mathematics. Mathematics educators in Jordan need to consider the MLS factors when teaching mathematics to 8th grade students to help improve their mathematics achievement.
Actions (login required)