Kaewsom, Chumphon (2015) The effectiveness of the Southern Border Provinces Administration Center (SBPAC) in managing the Deep South conflict in Thailand 2006-2012 an organizational approach. PhD. thesis, Universiti Utara Malaysia.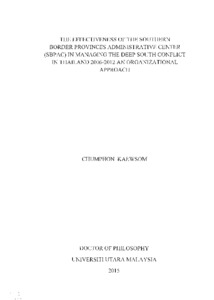 Preview
Text




s93150.pdf


Download (9MB) | Preview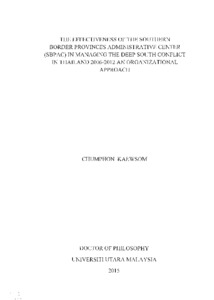 Preview
Text




s93150_abstract.pdf


Download (9MB) | Preview
Abstract
The unrest situation in the Deep South of Thailand is said to be very difficult to
resolve. The government has tried various policies but the situation remains volatile.
This is due to the diversity, pluralistic and cultural differences amongst the people in
Deep South of Thailand. The objective of this study is to examine and analyze management strategies of the Southern Border Provinces Administrative Center (SBPAC) in administrating the Deep South of Thailand from 2006 to 2012 using an organizational approach. The study is divided into three parts. The first part focused
on the political strategies which include peace negotiation, diplomatic offensive, healing process and enhancement of the role of religious leaders. The second part discussed on the educational strategies pursues by the SBPAC such as an integration of an Islamic education into Thai educational system, rebuilding education in conflict-affected areas and bridging education with peace. The last part analyzed the socio-economic strategies that include farming and fishery program, marketing of an agricultural products, financial assistance and international economic collaboration. The data for this study were collected from both primary and secondary sources and analyzed using qualitative method. The primary sources include documents, SBPAC's annual reports and press release. In addition, the researcher analyzed the outputs of the SBPAC policy-makers relating to the research topic such as speeches, official correspondences and decisions of the organization relating to the management of the conflict in the Deep South. Interviews with knowledgeable people, prominent political and/or religious leaders, key stakeholders as well as the SBPAC's officials were also conducted. The secondary sources included books, journal articles, newspapers and reliable websites. The study revealed that the SBPAC's strategies have not been very effective in resolving the conflict in the region due to its intrinsic structural predicament. The organization has been given a huge task that was to bring peace and stability into the decade-old problems in the region but with minimal or even limited authority. In addition, the frequent changes of government in Bangkok created political instability in the country as a whole. These frequent changes of guards in the center have far-reaching implications to the
SBPAC's management capabilities in dealing with the conflict.
Actions (login required)