Muthmainnah, Inna (2014) Designing the curriculum of Kitab Kuning (Arabic Script) at Pondok Pesantren Salafiyah in South Kalimantan. PhD. thesis, Universiti Utara Malaysia.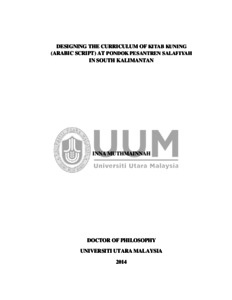 Preview
Text




s90915_02.pdf


Download (1MB) | Preview
Text




s90915_01.pdf


Restricted to Registered users only
Download (3MB)
Abstract
Prior studies found that education at Pondok Pesantren Salafiyah was not based on theories of curriculum design and did not have a formal curriculum, but the critics did not provide practical suggestions. The objectives of the study were to find out the nature of the curriculum design and the problems in implementing the recent curriculum of the Kitab Kuning at the Pondok Pesantren Salafiyah in South Kalimantan. Besides, this study also designed the suitable curriculum of Kitab Kuning for education at Pondok Pesantren Salafiyah. This study employed a qualitative case study. The researcher employed documentation, interview, and observation methods to triangulate the study. Nine groups of people were involved in this study: parents, politically influential
individuals, experts of curriculum, santris, ustaz, graduates, dropouts, community figure, and the writer of the Kitab Kuning. The data were analyzed through content analysis. This study found that the Pondok Pesantren Salafiyah had four unwritten components of curriculum and the problem of implementing curriculum occured in the content section and the methods of teaching. The major contribution of the study is that now the Pondok
Pesantren Salafiyah has a written curriculum covering educational purposes, contents,
methods of teachings, and methods of evaluation.
Actions (login required)