Alquabe'h, Mohammad Saqr Atieh (2016) Strategies that influence employee engagement: A study of Jordanian Electric Power Company Limited (JEPCO). Masters thesis, Universiti Utara Malaysia.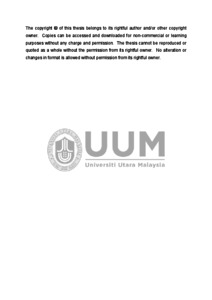 Preview
Text




s817472_01.pdf


Download (868kB) | Preview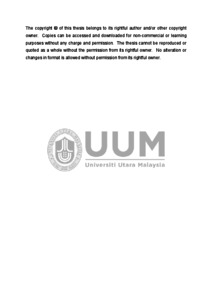 Preview
Text




s817472_02.pdf


Download (955kB) | Preview
Abstract
Nowadays, the importance of retaining and attracting skilled Employees for the success
of organization was recognized by business leaders. Therefore, organizations have progressively centered on Employee engagement in the last two decades as an approach to augment the skills and abilities of human resource. The increased focus on employee engagement was not surprising due to the benefit attached with it were clear. Furthermore, recent research has found that employee engagement not only enhance their job performance but is also helpful in skills up gradation. The purpose of this study is to examine and gain a better understanding of the strategies that influence the employee
engagement in JEPCO. This study was done among 108 staffs in JEPCO. The data were collected through questionnaires and analyzed by using (SPSS). Throughout the statistical analysis – correlation analysis, it is found that there is a significant relationship between the three independent variables namely Employee Communication, Rewards
system and leadership support with the dependent variables, Employee Engagement. Among all three independent variable, leadership support is found to be the most independent variable in driving the employee engagement in JEPCO.
Actions (login required)